Steve and his birds perfom all over Southern California and are based in Riverside.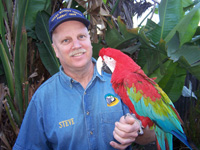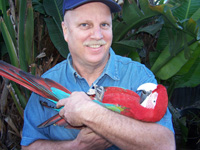 Expert in Training of Parrots, Macaws, and Exotic Birds
A multi-talented individual with many years of experience training and performing with exotic birds since 1995. Performances include television, movies, and personal appearances for educational and entertainment purposes. I am experienced at breeding all types and birds and in hand feeding. My introduction to birds was at an early age as my Grandfather was the breeder for Magnolia Bird Farms. The training method I use is positive reinforcement through affection and voice control, without using treats as a reward.
Book your reservations today! Schedule a show or consultation call with Steve Reverditto at # below:
Performing Throughout Southern, Northern, Central California, Nevada and Arizona. Also available in Ventura County, Riverside County, San Bernadino County, San Diego County and Orange County.
trickswithouttreats@yahoo.com
(** Restrictions may apply for some performances in Orange County. Please inquire.)